Coilover Sleeve Conversion Kits
For Porsche 986, 987, 981 Boxster/Cayman

Adjustable Coilover Conversion
Conversion kits provide a cost-effect way to convert to a full height adjustable coilover setup while retaining your existing non-threaded OEM PASM or Standard struts and shocks. Our no-weld kit converts to a full adjustable height coilover setup.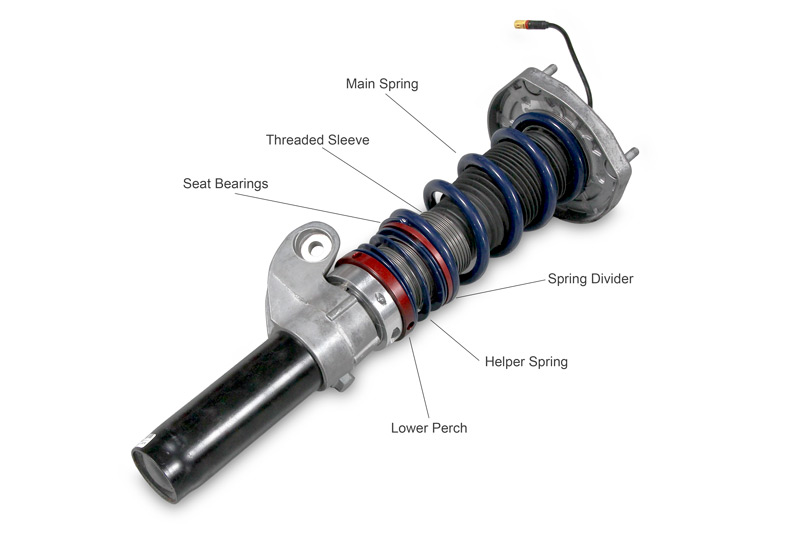 "Elephant's kit ingeniously converts existing standard PASM damper into a fully adjustable coilover."

Porsche World Magazine – 991 Coilover Kit
Seat Bearing Kit – Prevents spring wind-up allowing ease-of-steering.
Main Spring – The finest springs available, Hypercoil. Choose from a broad selection of rates, here are a few popular choices:
Level 1 – Street performance, canyon carver
Level 2 – Autocross, Drivers Education
Level 3 – Track
Porsche 911 World Magazine – Click here to read their recent writeup on our 991 Coilover Conversion Kit and then order the kit below… you'll love this easy bolt-on upgrade.
Coilover Conversion Kit Contents
Threaded Sleeve – Provides height adjustability. Compact design fits 2.5 inch springs for superior tire clearance.
Lower Perch – Easy height adjustment and corner balancing. Clamp-type is secure and kind to threads.
Sleeve Base – Bolts on and positions threaded sleeve, no welding required.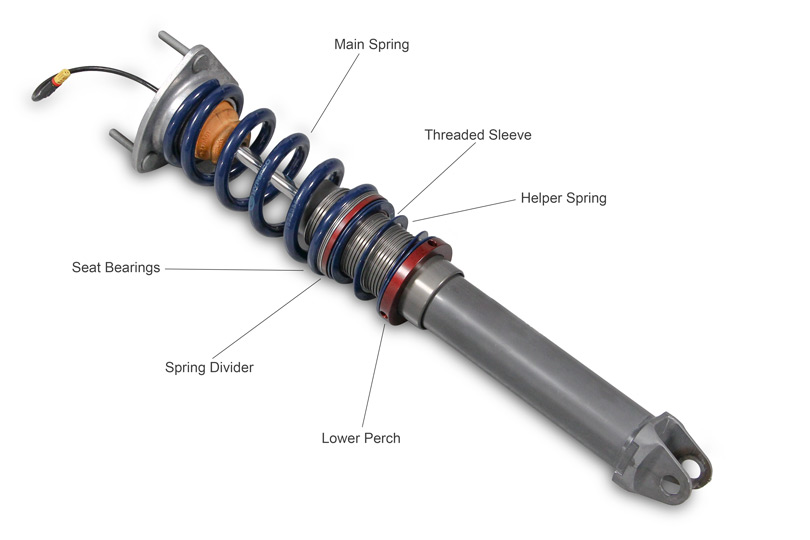 "Firming up the feel, feedback and driver involvment of your 991 can be done, and Elephant Racing has developed and sorted all the bits to do the job with its ingenious coilover convertsion kit."

911 Porsche World Magazine – 991 Coilover Kit
Helper Spring / Dividers – Prevents Main Spring from coming off perches at full suspension droop. Fully compressed in normal operation. Divider ensures Main Spring and Helper Spring remain properly seated
Front Sleeve Kits
Application Table
Part No.
Stock Equiv.
Fitment & Configuration
2320031
-
Level 1,
'12+ 991,
'13+ 981
1 pair, req'd per Axle
2320032
-
Level 2,
'12+ 991,
'13+ 981
1 pair, req'd per Axle
2320033
-
Level 3,
'12+ 991,
'13+ 981
1 pair, req'd per Axle

Speak to an expert: 1.408.297.2789