Von Shocks™ Coilover Shocks & Struts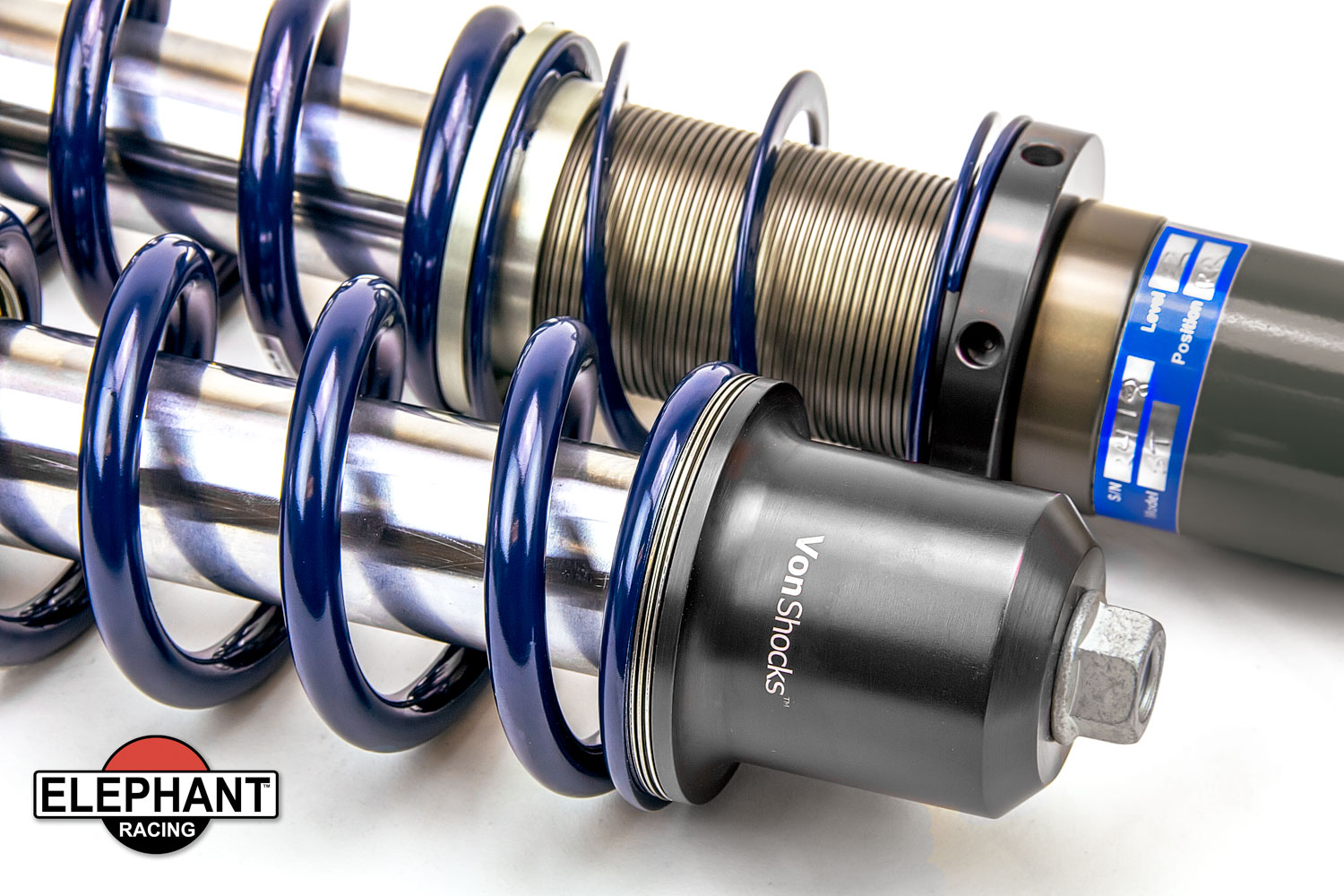 Complete Coilover Kits
Complete Von Shocks™ system fully engineered and ready to bolt on. No guesswork. Tuned spring rates, shock valving, spring lengths and bump stops that all work together right out of the box.
Levels – Choose from 4 levels, each tuned with springs and valving matched to your planned usage:
Level 1 – Street performance, canyon carver
Level 2 – Autocross, Drivers Education
Level 3 – Time trial
Level 4 – Dedicated race car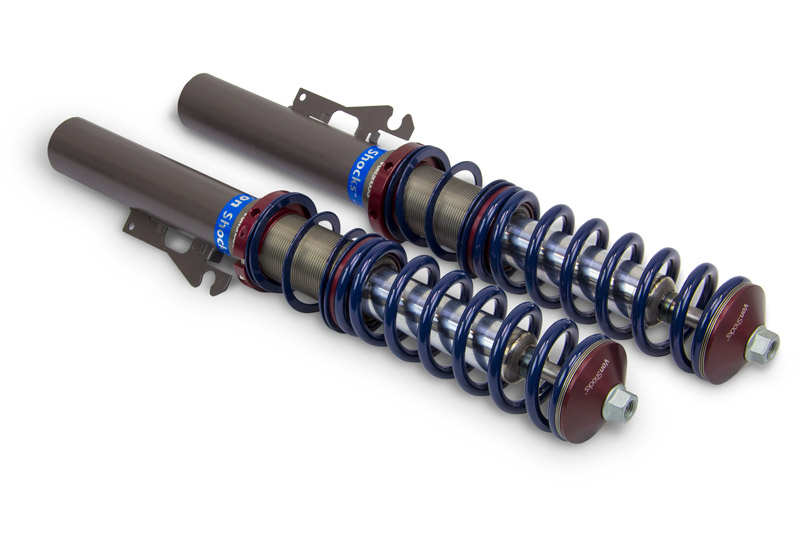 Pair-Matched Shocks – Each and every Von shock is computer shock dyno-tested. Dyno plots are then used to choose hand-picked pairs, thus delivering unrivaled consistency and shocks that truly match.
Build Quality – Our coilover kits are track proven. Engineered and manufactured with the highest quality standards, each set is hand built to exact specifications of every order. All orders include actual dyno charts, documentation and certification.
Superb Springs – We use 2.25 inch Hypercoil springs. The same springs that are found on Indycars, ALMS, Grand Am and more. They typically measure within 1% of labeled rate. Hypercoils have a Life-Time Guarantee that coils remain within 2% of the original manufacturing tolerances.All of our coilover kits also include Helper springs. Front and rear. This springs have a very low rate and collapse under the car's weight. Their purpose is to keep the main spring tensioned when the wheel goes to full droop under hard cornering (lifted wheel), over bumps, and on the jack.
"The car was quite well balanced right out of the box. Obviously you know what you are doing with spring selection."

Charles in IL, USA
Spring dividers are used between main and helper springs. They keep both springs properly aligned and centered on the shock/strut body.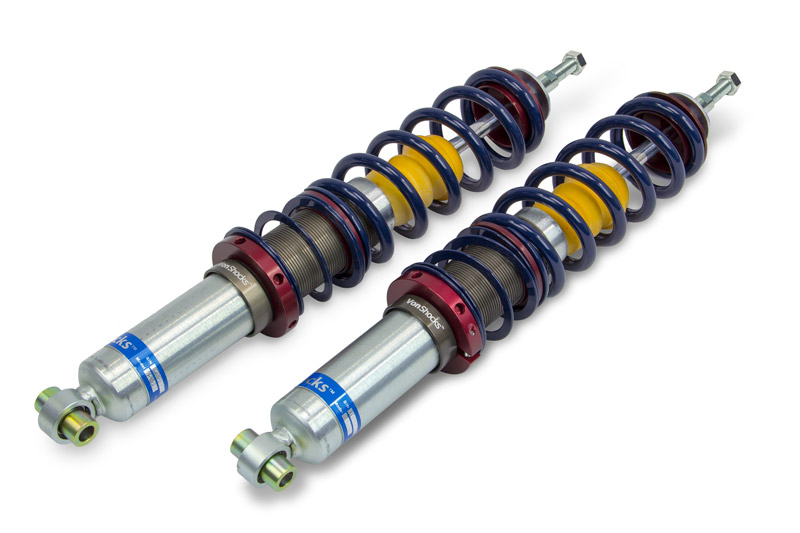 Friction Free Setup – Each kit includes upper perch with spring seat bearing to prevent spring windup. Coilovers without this bearings can make the steering feel very heavy as the spring fights to re-center the steering. Needle bearings prevent the coil windup, and lighten the steering feel.
Adjust Ride Height – Achieve the perfect ride height and corner balance by raising or lowering the lower perch. Compact design of the threaded sleeve fits 2.25 inch springs for superior tire clearance.
Camber Plates – Camberplate kits can be ordered separately to enhance the performance of your coilover system.
Front
Application Table
| Part No. | Stock Equiv. | Fitment & Configuration |
| --- | --- | --- |
| 2313601 | - | '97-'04 996/Boxster/Cayman, Level 1 |
| 2313602 | - | '97-'04 996/Boxster/Cayman, Level 2 |
| 2313603 | - | '97-'04 996/Boxster/Cayman, Level 3 |
| 2313604 | - | '97-'04 996/Boxster/Cayman, Level 4 |
| 2314201 | - | '05-'12 997/Boxster/Cayman, Level 1 |
| 2314202 | - | '05-'12 997/Boxster/Cayman, Level 2 |
| 2314203 | - | '05-'12 997/Boxster/Cayman, Level 3 |
| 2314204 | - | '05-'12 997/Boxster/Cayman, Level 4 |
Rear
Application Table
| Part No. | Stock Equiv. | Fitment & Configuration |
| --- | --- | --- |
| 2313701 | - | '97-'04 996, Level 1 |
| 2313702 | - | '97-'04 996, Level 2 |
| 2313703 | - | '97-'04 996, Level 3 |
| 2313704 | - | '97-'04 996, Level 4 |
| 2314101 | - | '05-'12 997, Level 1 |
| 2314102 | - | '05-'12 997, Level 2 |
| 2314103 | - | '05-'12 997, Level 3 |
| 2314104 | - | '05-'12 997, Level 4 |
Questions? Call us at 1.408.297.2789 M-F 8-5 PST