Quickchange™ Strut Brace
For Porsche 911, 912, 930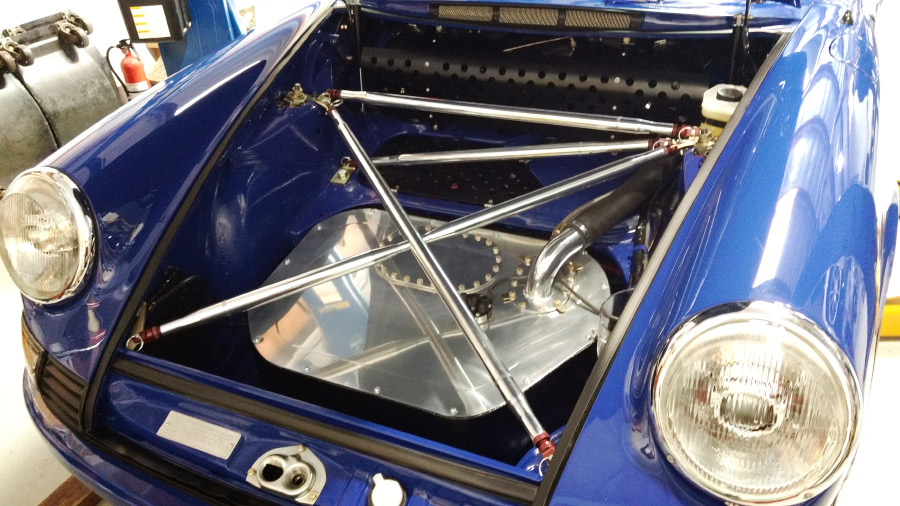 QuickChange Strut Brace Systems For Porsche 911, 912, 930
Expandable, quick removal and installation
Our unique QuickChange™ strut-brace system is expandable to grow with your needs. Quick release pins let you remove or reconfigure in minutes.
Expandable – Start with a single-bar strut tower brace and later scale up with triangulation or even a full-blown 935 X brace, the system is completely upgradable. Grow or reconfigure your brace to match your changing needs for chassis rigidity, storage capacity, and budget.
Quick Release – Tubes are secured with quick release pins, each held in place by a detent ball. Quick Release pins allow fast, tool-less removal for service access or expanded stowage capacity.
Build Quality – Truly awesome appearance matches the functionality. Oversized aluminum tubing has a beefy, stout appearance yet remains lightweight and has a purposeful frosted anodize finish. CNC machined billet aluminum clevis ends are anodized a tasteful burgundy color.
Easy Bolt-in Installation – All configurations are completely bolt-in, no welding required. 78-89 cars drill one hole for triangulation option. 66-77 already have the hole.
QuickChange Strut Brace Video
"I have installed your 935 brace and it looks amazing, really happy with the quality."

Shannon in NZ – 911 935 Brace
Integrates easily with all our camberplate and strut top monoball options including stock camberplates and rubber bushings.
Four Configurations
Start with any configuration, all can be fully upgraded by simply adding components. No throwaways! And all are quickly and easily removed when necessary with the quick-release pins.
Single Bar – The foundation of the system, the single bar connects the strut towers together for reduced flex.

Triangulated – Triangulation locks the towers even more rigidly in place to maintain camber settings – even through high G corners.

935 X Brace – Inspired by the chassis braces used on 935 race cars, the X brace increases chassis torsional rigidity. Completely bolt on, it attaches to the camber plates and the front corners of the trunk.

935 X Triangulated – The most rigid brace available, this configuration adds the triangulated member to the 935 X brace and is the complete QuickChange X Brace solution.


https://www.elephantracing.com/wp-content/uploads/strut-brace-kit-polished-installed_001-150x84.jpg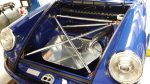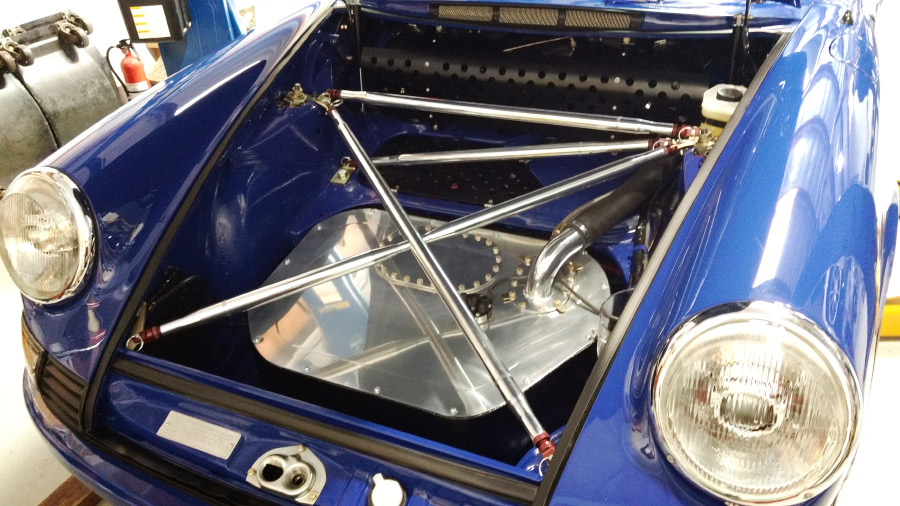 Application Table
| Part No. | Stock Equiv. | Fitment & Configuration |
| --- | --- | --- |
| 2162202 | - | '66-'89 911, 912, 930 - Single Bar |
| 2162203 | - | '66-'89 911, 912, 930 - Triangulated Brace |
| 2162200 | - | '66-'89 911, 912, 930 - 935 X-Brace |
| 2162204 | - | '66-'89 911, 912, 930 - 935 X Triangulated Full Brace Kit |
Links for QuickChange Strut Brace Systems
Strut Brace Add-on Upgrades For Porsche 911, 912, 930
We offer upgrade kits for cars that already have either the triangulated kit or the 935 X Brace kit.
Options are as follows:
Triangulated Add-on Upgrade – this kit contains the brackets and brace that runs from the driver side strut top to the passenger side show tower bottom.
935 X Add-on Upgrade – this kit contains the bolt-in brackets and complete upper X Brace assembly that runs from upper shock towers to forward trunk compartment.
Application Table
| Part No. | Stock Equiv. | Fitment & Configuration |
| --- | --- | --- |
| 2162205 | - | Triangulated Add-on Upgrade |
| 2162206 | - | 935 X Add-on Upgrade |
Links for Strut Brace Add-on Upgrades
Questions? Call us at 1.408.297.2789 M-F 8-5 PST