Turbo Tie Rod Kits
For Porsche 911, 912, 930
Turbo Tie Rods For Porsche 911, 912, 930, 914
Improve steering precision and feedback
Turbo tie rods improve feedback and steering precision by replacing the rubber tie rod bushings with ball socket ends. Originally equipped on the 911 turbo, they can be installed on the normal 911, 912, & 914.
We offer turbo tie rods in standard length for '69-'89 911 series cars, and a special extra-long version for '65-'68 911/912. The '65-'68 cars have a narrow steering rack which causes inadequate tie rod thread engagement without our extra long turbo tie rods.
The standard kits are complete with tie rods, spacing washers, and steering rack boots for both sides. We also offer the kits without the tie rod ends. Choose this option if you are using a tie rod end bump steer kit.
Watch this Quick Overview
https://www.elephantracing.com/wp-content/uploads/bumpsteer-correcting-tie-rods-detail_003a-150x100.jpg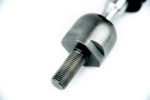 https://www.elephantracing.com/wp-content/uploads/turbo-tie-rods-for-porsche-911_001-150x116.jpg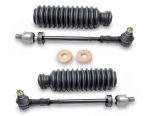 Application Table
Part No.
Stock Equiv.
Fitment & Configuration
7-93034703101

Porsche part number "930 347 031 01"

Turbo tie rods, Porsche part #930-347-031-01

930 347 031 01
'65-'68 911/912/930, Extra long with tie-rod ends
1 kit, req'd per Car
9-93034703101

Porsche part number "930 347 031 01"

Turbo tie rods, Porsche part #930-347-031-01

930 347 031 01
'65-'68 911/912/930, Extra long w/o tie-rod ends
1 kit, req'd per Car
8-93034703101

Porsche part number "930 347 031 01"

Turbo tie rods, Porsche part #930-347-031-01

930 347 031 01
'69-'89 911/912/930/914, Std. length without tie-rod ends
1 kit, req'd per Car
2-93034703101

Porsche part number "930 347 031 01"

Turbo tie rods, Porsche part #930-347-031-01

930 347 031 01
'69-'89 911/912/930/914, Std. length with tie-rod ends
1 kit, req'd per Car
Links for Turbo Tie Rods
Questions? Call us at 1.408.297.2789 M-F 8-5 PST