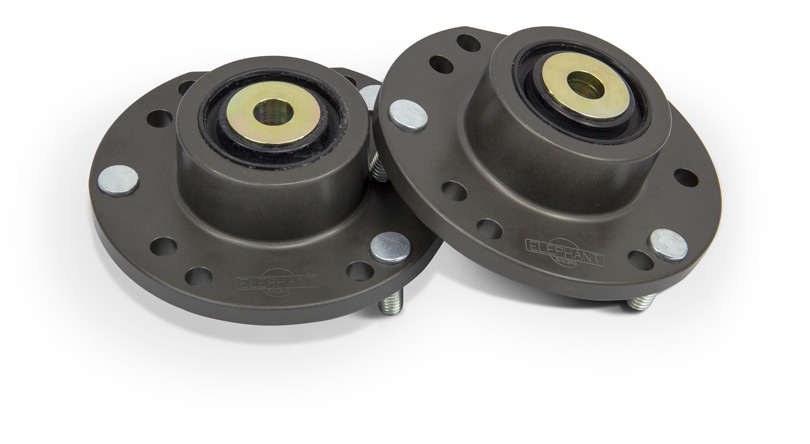 Rear Shock Mount Kit For Porsche 964
Upper Rear Shock Mounts
These shock mounts use high strength hardened steel spherical bearings and are direct replacements for the factory mounts. The Teflon lined spherical bearings used in our kit are maintenance-free and require no supplemental lubrication. Included seals prevent contamination from water or grime, thus extending bearing life.
This kit is intended to work with coilover setups, however it can be adapted to work with factory or lowering springs. Please give us a call for more detail. It is also suited to work perfectly with Von Coilover systems or other similar solutions.
Fully Weather Sealed
We've designed in weather seals on the top and bottom to keep dirt out and extend product life. This is the only shock mount suitable for street or extended track use. Dirt and water contaminate ordinary products and accelerate wear.
Improved Shock / Coilover Performance
The spherical bearing in these Elephant Racing shock mounts pivot freely and eliminate deflection that is inherent with factory-style rubber shock mounts. This is important for the following reason:
A factory rubber mount acts as a spring in series with the shock. The factory mount's rubber spring-action is completely un-damped and reduces a shock's ability to control tire contact patch. Our spherical bearing shock mounts allow the shock damper to do its job and effectively control the tire's contact patch for predictable driving in all road/weather conditions.
Watch this Quick Overview
Application Table
| Part No. | Stock Equiv. | Fitment & Configuration |
| --- | --- | --- |
| 2152206 | - | '95-'98 993, 12mm shock stem |
Links for Rear Shock Mount Kit
Related Products
Questions? Call us at 1.408.297.2789 M-F 8-5 PST