Restore the original steering quality of your Porsche 964 by replacing failed or fatigued tie rods with factory replacement components.
Bump Steer Correcting Tie Rod Kit For Porsche 964, 993
Bump Geometry Correction
Lowered cars with non-RS wheel carriers suffer from bump steer and will benefit from bump geometry correction.
Bump steer is a change in toe due to vertical movement of the wheel, such as when driving over a bump. The toe change causes the car to turn, and the driver needs to constantly correct for this to maintain a steady trajectory. This makes the car a handful to drive, especially over bumpy road surfaces.
Bump correction is achieved by moving the tie rod end pivot about 10mm closer to the steering knuckle as compared to the stock tie rod end. This changes the angle of the tie rod to produce the bump geometry correction.
No Need To Convert Wheel Carriers
This Bump Steer Correcting Tie Rod kit provides bump geometry correction with the standard C2/C4 wheel carriers. It is not necessary to convert the wheel carriers to RS type to correct for bump steer when using our kit.
Corrects for bump steer
Eliminates rubber inner-joint
Enhanced driving precision
Easier and more cost effective than RS wheel carrier conversion
These Elephant Racing bump steer tie rods also eliminate the compliant rubber inner-joint found in the factory 964 tie rods with a spherical bearing providing a more direct and responsive steering feel. Thus, proper suspension geometry is restored, driver corrections are minimized, and vehicle trajectory is stabilized making driving control easier while reducing driver fatigue.
"Just wanted to let you know i received my parts today. I wanted to reach out and thank you. Second, to let you know i have never seen a tie rod of this quality before. I am beyond pleased and look forward to installing them on my car, along with the links."

Patrick I. – Londonderry, NH
Watch this Quick Overview
Out Performs All Other Tie Rods
Even on cars fresh from the Porsche factory assembly lines our anti-bump steer kit will reduce bump steer through the full range of motion.

Bump Steer Correcting Tie Rods are offered in two lengths:
• Part 2180031 is for 964 narrow body cars including C2 and C4.
• Part 2180033 is extended and fits wide body 964 turbo cars only.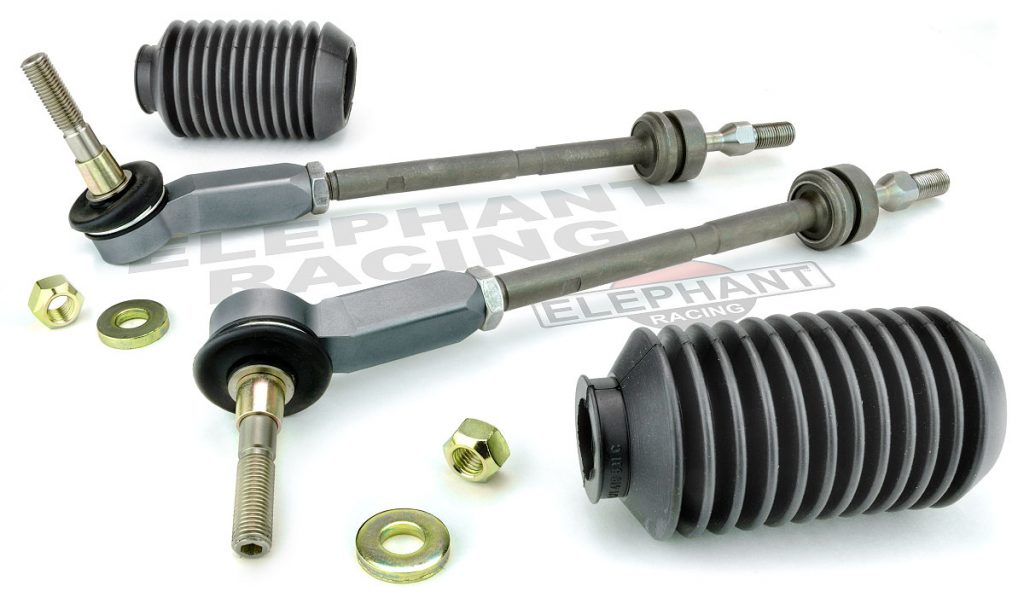 https://www.elephantracing.com/wp-content/uploads/964-tie-rod-thread-detail_002-150x100.jpg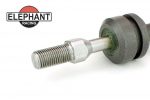 https://www.elephantracing.com/wp-content/uploads/2180018-tie-rod-bump-steer-kit_detail_003-150x100.jpg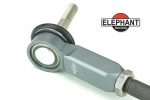 Application Table
| Part No. | Stock Equiv. | Fitment & Configuration |
| --- | --- | --- |
| 2180031 | - | '89-'94 964 non-turbo w/o RS wheel carriers |
| 2180033 | - | '89-'94 964 turbo wide-body only |
Links for Bump Steer Correcting Tie Rod Kit
Inner Tie Rod For Porsche 964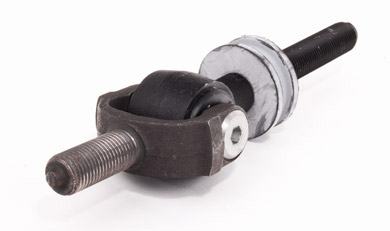 Application Table
Part No.
Stock Equiv.
Fitment & Configuration
1-96434705801

Porsche part number "964 347 058 01"

Inner tie rod, Porsche part #964-347-058-01

964 347 058 01
'89-'94 964 C2/C4
RS Tie Rods For Porsche 993
RS tie rods use harder compound rubber and improve both steering precision and feedback. RS wheel carriers are required to use these tie rods. Additionally, pairing these tie rods with RS style wheel carrier reduce effects of bump steer and is a must for cars that are lowered more than 30mm.
993 RS stock height is 50mm lower than US spec cars and 20-30mm lower than European spec cars.
Kits come with outer and inner tie rods, two kits required per car.
The outer tie rids can also be used with standard or M030 tie rod ends. Hover These are only sold as a kit of inner and outer tie rods.
Genuine Porsche part.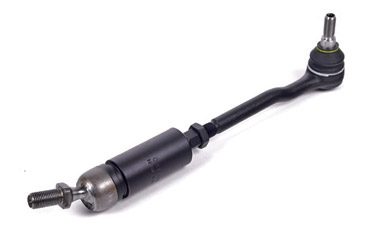 Application Table
Part No.
Stock Equiv.
Fitment & Configuration
1-99334703180

Porsche part number "993 347 031 80"

Rs tie rods, Porsche part #993-347-031-80

993 347 031 80
'95-'98 993 RS
Outer Tie Rod For Porsche 964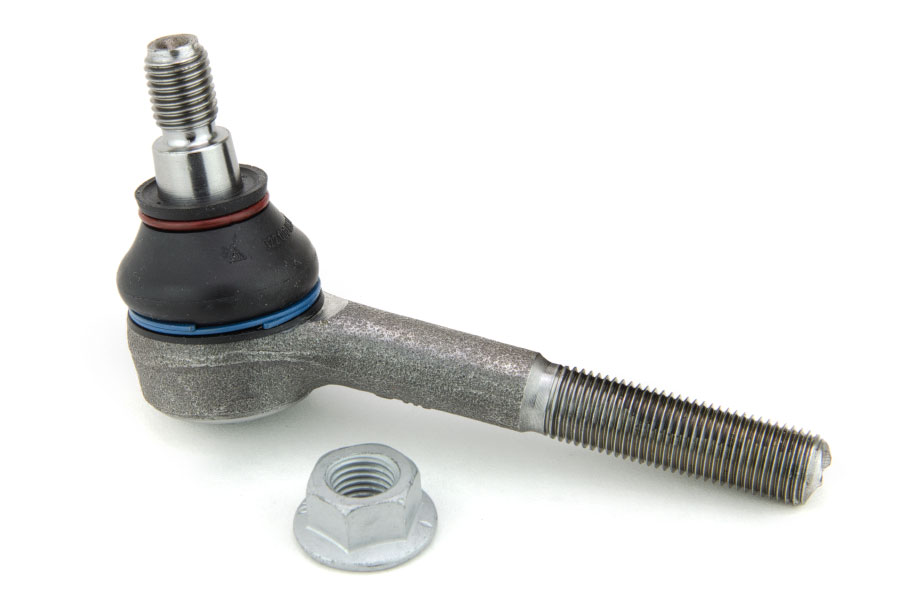 Application Table
Part No.
Stock Equiv.
Fitment & Configuration
1-96434732202

Porsche part number "964 347 322 02"

Outer tie rod, Porsche part #964-347-322-02

964 347 322 02
'89-'94 964
Questions? Call us at 1.408.297.2789 M-F 8-5 PST