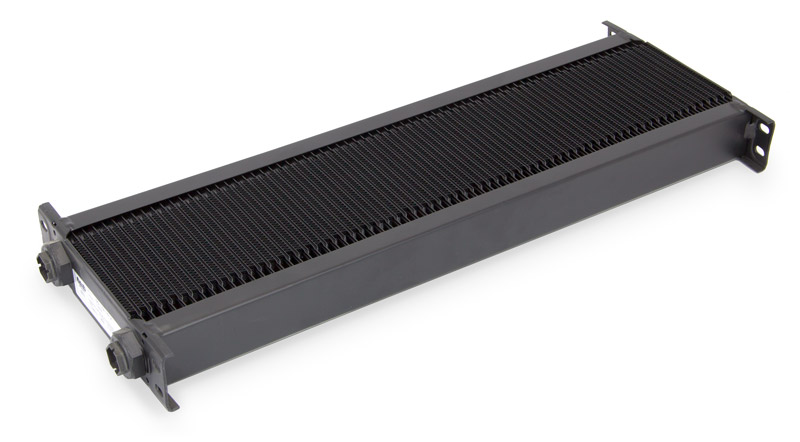 Setrab oil coolers combine high quality with high flow capacity for custom cooler applications. A variety of sizes and fitting types are available to meet your needs.STD series is available in a range of sizes and can be used in center valance, fender and other locations. Suitable for use as an engine or transaxle cooler.
Choose fittings for Porsche 30mm hoses, or AN-type fittings, order separately below.
Optionally choose our Side Mount Kit, order separately below.
Complete oil cooler kits for Porsche fitment are available here.
Setrab Oil Cooler Fitment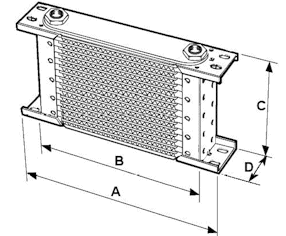 Application Table
| Part No. | Stock Equiv. | Fitment & Configuration |
| --- | --- | --- |
| 1-STD948 | - | A:16", B:14-1/2", C:14-1/2", D:2" |
| 1-STD925 | - | A:16", B:14-1/2", C:7-1/2", D:2" |
| 1-STD920 | - | A:16", B:14-1/2", C:6", D:2" |
| 1-STD915 | - | A:16", B:14-1/2", C:4-1/2", D:2" |
| 1-STD910 | - | A:16", B:14-1/2", C:3", D:2" |
| 1-STD660 | - | A:13", B: 11-1/4", C:18-1/2", D:2" |
| 1-STD650 | - | A:13", B: 11-1/4", C:15-1/4", D:2" |
| 1-STD640 | - | A:13", B: 11-1/4", C:12", D:2" |
| 1-STD634 | - | A:13", B: 11-1/4", C:10-1/4", D:2" |
| 1-STD625 | - | A:13", B: 11-1/4", C:7-1/2", D:2" |
| 1-STD619 | - | A:13", B: 11-1/4", C:5-3/4", D:2" |
| 1-STD616 | - | A:13", B: 11-1/4", C:4-3/4", D:2" |
| 1-STD613 | - | A:13", B: 11-1/4", C:4", D:2" |
| 1-STD610 | - | A:13", B: 11-1/4", C:3", D:2" |
| 1-STD607 | - | A:13", B: 11-1/4", C:2", D:2" |
| 1-STD272 | - | A:9-1/4", B:7-1/4", C:22-1/2", D:2", Diagonal Flow |
| 1-STD172 | - | A:8-1/4", B:6-1/4", C:22-1/2", D:2" |
| 1-STD150 | - | A:8-1/4", B:6-1/4", C:15-1/4", D:2" |
| 1-STD125 | - | A:8-1/4", B:6-1/4", C:7-1/2", D:2" |
| 1-STD119 | - | A:8-1/4", B:6-1/4", C: 5-3/4", D:2" |
| 1-STD113 | - | A:8-1/4", B:6-1/4", C:4", D:2" |
| 1-STD110 | - | A:8-1/4", B:6-1/4", C:3", D:2" |
| 1-STD107 | - | A:8-1/4", B:6-1/4", C:2", D: 2" |
| 1-COM500-15 | - | A:23-1/2", B:19-1/2", C:5-3/4", D:2-1/4" |
Questions? Call us at 1.408.297.2789 M-F 8-5 PST