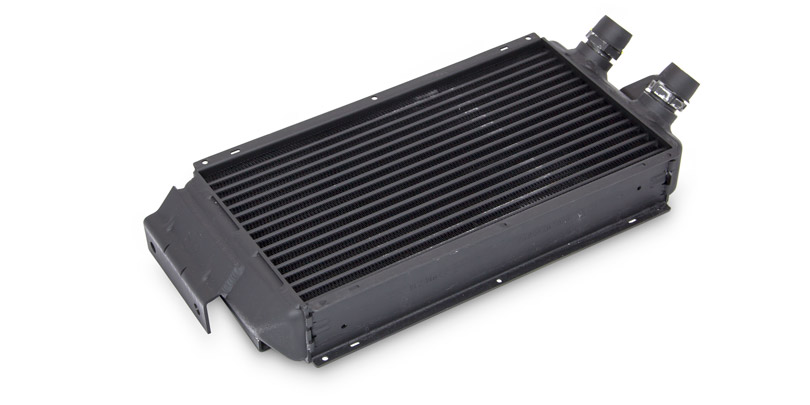 Fender mounted Carrera and C2 style Coolers with Widemouth fittings
Porsche installed the highly-efficient Carrera oil cooler on the 1984-1988 3.2 liter Carreras. Similar coolers are available from aftermarket suppliers, but they are not the same. Aftermarket fittings are a flow-restricting 14.5 mm internal diameter, much smaller than original factory parts! Elephant Racing solves the problem! We deliver the same Carrera style cooler with our exclusive custom "Widemouth" fittings that have a 17.5mm internal diameter. Our increased fitting size results in nearly 50% greater flow capacity.
Our coolers have tabs for mounting to factory brackets and can be used with the factory stone guard. Fittings are factory metric type.
Don't compromise your Porsche's life blood, give it the full-flow performance intended by the factory.
Widemouth Carrera style cooler for the '65 to '89 911 front fender used in combination with our finned oil lines, Elephant Racing's Widemouth is a great solution for tracked cars up to 3.2 liters and street cars up to 3.6 liters.
C2 style Widemouth cooler fits '90-'98 C2/C4/993 cars and provides the same 17.5mm Widemouth fittings.
30mm Widemouth fittings are available for upgrading your existing Carrera or C2 cooler. Please verify that your cooler has threaded fittings before ordering.
You can also convert to AN-style fittings, order below.
Application Table
Part No.
Stock Equiv.
Fitment & Configuration
3-93020705302
-
Carrera cooler including Widemouth fittings
'65-'89 911 & 930
qty req'd may vary
Questions? Call us at 1.408.297.2789 M-F 8-5 PST