Von Shocks™ Coilover Shocks & Struts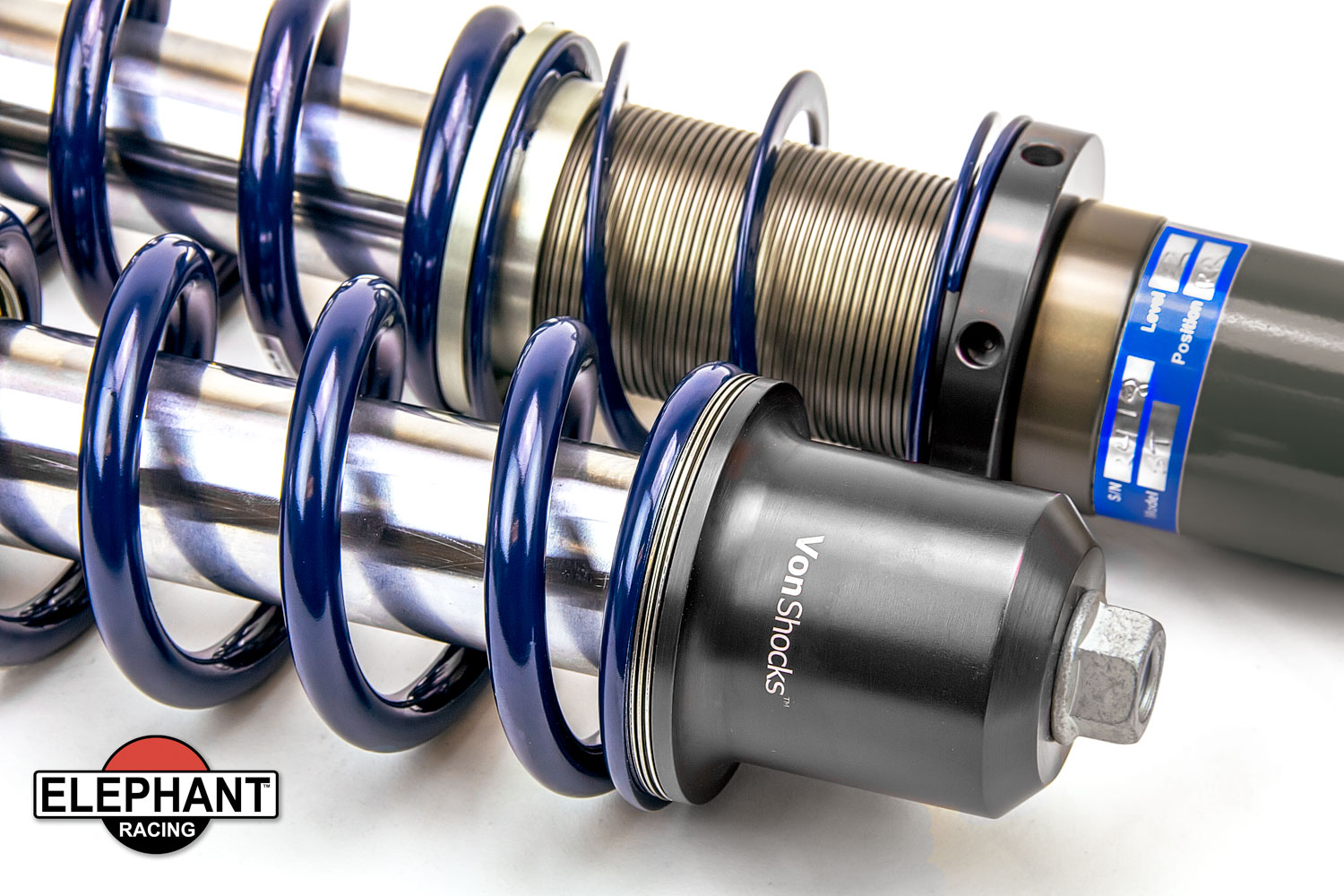 Dyno Tuned & Ready To Bolt-On
Complete systems fully engineered and ready to bolt on. No guesswork, tuned spring rates, shock valving, spring lengths and bump stops that all work together right out of the box.
Von Coilover Complete Systems
Bolt on a complete balanced system including threaded body struts, springs, all hardware, assembled and ready to go.
Von Shocks – Standard with high pressure nitrogen gas sealed Von Street inserts.
Levels – Choose from 4 levels, each tuned with springs and valving matched to your planned usage:
Level 1 – Street performance, canyon carver
Level 2 – Autocross, Drivers Education
Level 3 – Time trial
Level 4 – Dedicated race car
Pair-Matched – Each and every Von shock is computer shock dyno-tested. Dyno plots are then used to choose hand-picked pairs, thus delivering unrivaled consistency and shocks that truly match.
Rear Swaybar Stabilizing Link – 993 rear coilovers include a stabilizing link. This link improves the function of the sway bar. Because the 993 rear sway bar drop link is attached to the shock body, 993 rear shocks rotate in reaction to sway bar forces. This causes a 'dead zone' in which the sway bar fails to resist body roll, until the shock rotation stops. The stabilizing link prevents shock rotation and eliminates the sway bar dead zone.
Complete hardware – Kits are complete with main springs and helpers springs to keep springs in tension even at full droop. Both front and rear kits include spring seat bearing to prevent spring windup.

Camber Plates – Camberplate kits can be ordered separately to enhance the performance of your coilover system.
"I knocked 10 seconds off my best time @ Sebring with your suspension products, I could not be happier with the results."
Dave D. – 911 Suspension Upgrade
Questions? Call us at 1.408.297.2789 M-F 8-5 PST